Navigation items and banners
---
---
---
Multimedia Station "Forced Labor 1939-1945" at the German Historical Museum
The multimedia station "Forced Labor 1939-1945" of the German Historical Museum provides its visitors with an introduction to this chapter of German history with a selection of interviews.
The selected interviews represent the following groups: A Ukrainian "OST-Arbeiter", a Polish forced laborer, a Soviet prisoner of war, slave laborers from concentration camps and an Italian military internee. The interviewees give accounts of their various areas of deployment in industry, agriculture, and mining and in private households.
The interviews can be selected using a map according to place of origin and place of deployment as well as according to the themes "Origin and Family", "Labor and Terror", "Return and Emigration". Visitors can obtain background information through introductory texts, information and facts about forced labor. 
The interviews have been subtitled in German. The station has been developed and implemented by the research assistants of the Department for Central Documentation.
The multimedia station is also been available online in a web-optimized version. More» (in German)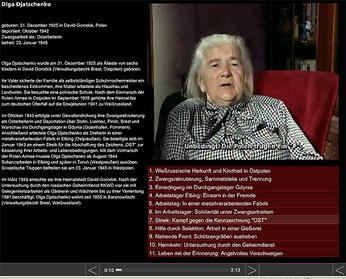 Video Interview in the Multimedia Station
Source: Archive "Forced Labor 1939-1945"
---
---
News
This spring - 80 years after the handover of power to the Nazis and 67 years after the liberation - new projects of rememberance in Berlin offer information also on the history of forced labor.
03/25/2013
From January 9 until  March 8, 2013, the international exhibition "Forced Labor. The Germans, the Forced Laborers and the war" is on display in the Royal Palace of Warsaw.
12/18/2012
On November 4, 2012, our interview partner Claudio Sommaruga died at the age of 92.
11/20/2012
---