Navigation items and banners
---
---
---
Living Memories for Education and Research
Personal experiences told by the witnesses themselves can help to convey history to young people in a lively way.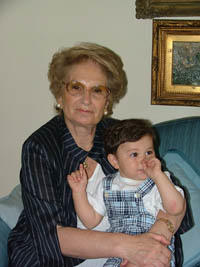 Liliana S., Jewish Italian
Many former forced laborers would like to actively participate in memory work at the place of their lost youth. Research calls for individual and collective patterns of memory.
Soon, however, less and less survivors will be available for direct encounters and personal stories. Therefore, written or audiovisual recordings of testimonial accounts are being used more and more in research and historical-political education.
Digital archives safeguard these autobiographical testimonies and make them accessible online.
---
---
News
This spring - 80 years after the handover of power to the Nazis and 67 years after the liberation - new projects of rememberance in Berlin offer information also on the history of forced labor.
03/25/2013
From January 9 until  March 8, 2013, the international exhibition "Forced Labor. The Germans, the Forced Laborers and the war" is on display in the Royal Palace of Warsaw.
12/18/2012
On November 4, 2012, our interview partner Claudio Sommaruga died at the age of 92.
11/20/2012
---